San Francisco's
de Young Museum
was the first and so far the only US stop on the Westwood retrospective tour. Looking at this show proved that
Vivienne Westwood
taught most of us in the final quarter of the 20th century how to dress, and her influence on high and street fashion alike is still apparent. Westwood's DIY spirit in the early years is infectious, and some of her later pieces merge evening gown elegance with medical, bondage and military influences in remarkable ways. You can still see knockoffs of her early punk designs at any punk/goth/industrial club, and her appropriation and redesign of British nobleman's dress presaged hip hop's affinity for Tommy Hilfiger.
Many of her later day wear collections area bit more hippie/folkie and fairly hideous in my opinion, but I'd kill for that hobble dress with the hospital straps. It's like something rose up out of the
Alte Krankenhaus
in Vienna, all gussied up for the Oscars. Wish I could find a picture for you. This picture of the AKH should give you some idea.
I'm not generally a fan of big-name designers taking over museum spaces as it tends to dumb things down in a fairly crass and commercial way, but sometimes the accolades are deserved even by someone who hangs out with supermodels. Also, I liked seeing this image on banners all over the city:
One of Westwood's most significant contributions has been her embracing of androgyny in several collections. Bizarre structural features such as the "Mini-Crini," a short bustle in front, add to the gender confusion.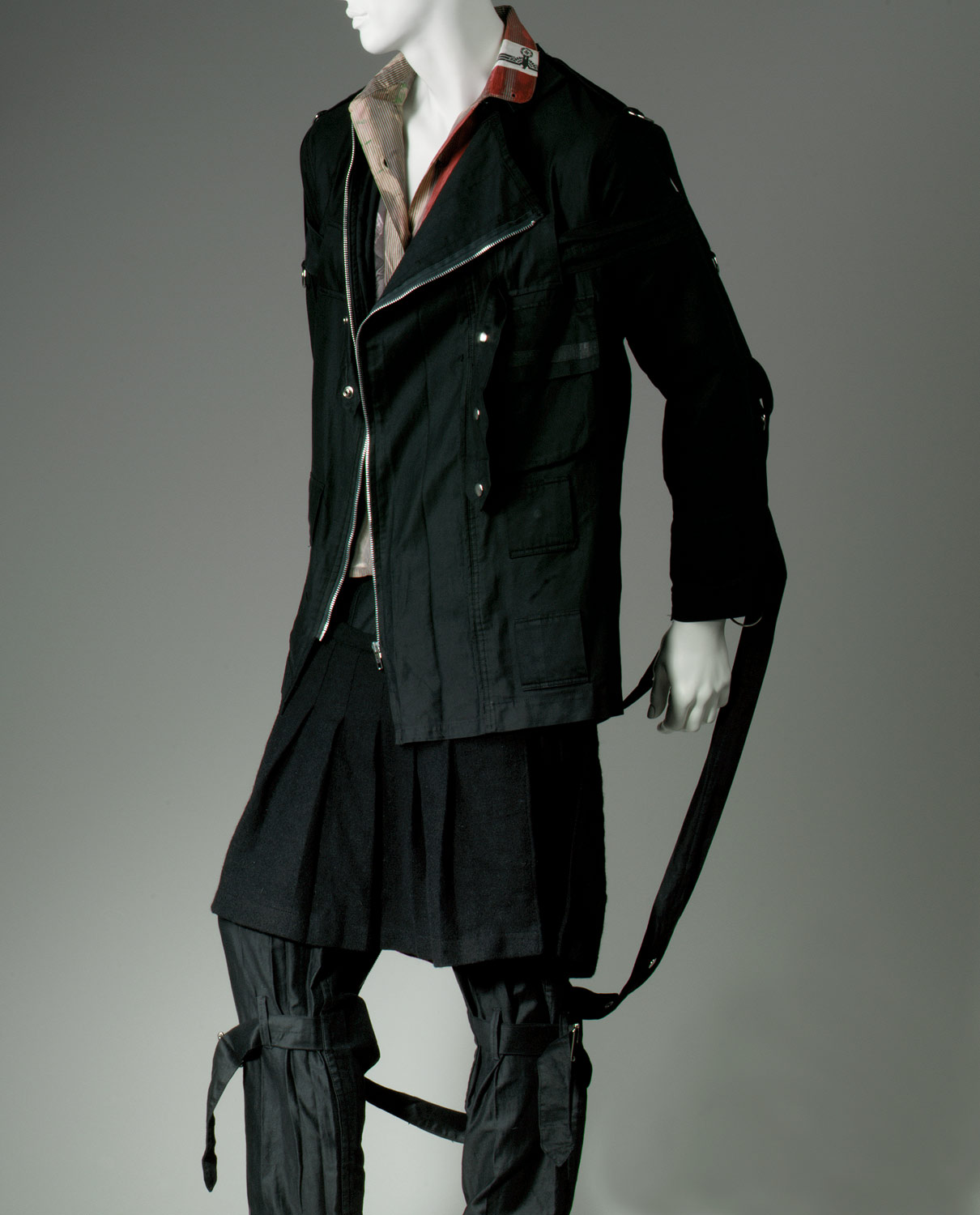 Anyone who says that Vivienne Westwood (or Malcolm McLaren, or the Sex Pistols) invented Punk is mistaken, but Westwood deserves a lot of credit for bringing Punk sensibilities to a broader audience with designs that were cheap and easy to copy, or reinvent. It's not surprising that she has taken such an interest in later years in her extensive study of historical costume, as that early work represents a historical moment of its own, in great detail.
Subscribe in a reader